Wholesale of ribbons and cordons
Wholesale offer for ribbons
Multi-coloured ribbons at wholesale prices with a guaranteed constant supply of colours. Haberdashery ribbons are available in more than 500 colours:
  

satin ribbons

 

brocade ribbons

 

jute ribbons

 

fabric ribbons

  

metallic ribbons

 

decorative ribbons with print
We are a supplier of ribbons that are ideal not only for decorating and haberdasheries but also for florists. Available ribbons are in rolls with a coil of 20 m to 90 m, with a width of 3 mm to 50 mm.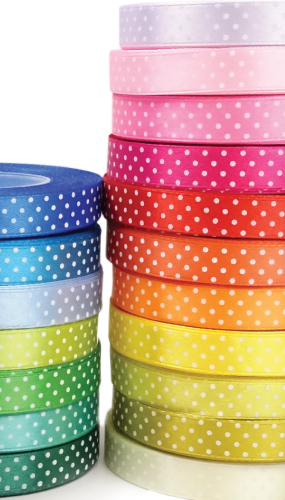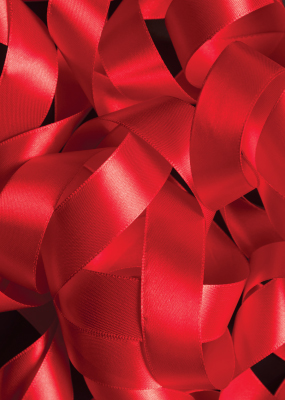 Also called satin ribbons. In our wholesale, we offer more than 80 colours in variants:
  

monochrome

ribbons

   

ribbons

with dots

   

ribbons

with gold trim
The warehouse with ribbons offers you a wide range of rich, soft as well as pastel and neon shades. Satin ribbons are single-sided. The ribbons and cordons have different windings from 30 m to 90 m with a width of 3 mm, 6 mm, 12 mm, 25 mm, 38 mm and 50 mm. Decorative ribbons are strong and have a strong satin weave. The surface is glossy on one side and duller on the other. The ribbons have a polyester composition and therefore the colours will be vibrant and bright for a long time.
The glossy, decorative ribbons have a rougher surface. They are double-sided with gold or silver glitter. Ribbons are used in the production of various creative decorations, you create beautiful bows and various ornaments with them, they keep their shape when folded. Available in our warehouse in widths of 6 mm, 12 mm, 25 mm, 38 mm and a length of 32 m.
In our wholesale offer of ribbons for haberdashery, we also have textile ribbons in various colours. With a check pattern, they are great for decorating and tying. The ribbons are washable. You can choose from ribbon widths of 12 mm, 25 mm, 38 mm with a coil length of 22 m.
Chiffon ribbons, also known as monofilament, are characterized by the transparency of the material. They are delicate and elegant and ideal for decorating tablecloths, making decorative materials, decorating wedding and festive tables. They are colourfast and although they look soft, they are very strong and durable. In our offer you will find one-color ribbons and decorative ribbons with a gold border. Available in widths of 6 mm, 9 mm, 12 mm, 18 mm, 25 mm and 38 mm. The coil has a winding up to 32 m.
Grosgrain monochrome ribbons
We are a wholesale supplier of grosgrain ribbons that have a fine serrated surface and they are matte without gloss. Monochrome ribbons are available in widths of 6 mm, 12 mm and 25 mm with a coil length of 22 m. The ribbon has an infinite amount of use. It will serve not only to decorators but also to the headband and jewellery makers. Grosgrain ribbon is suitable for casual wear as well as for decorating the interior or exterior. It is made of polyester, so they are colourfast.
Decorative ribbons for haberdashery and florists with high gloss and rich colours. Ribbons are suitable for various hand made products and decorations but also for florists. They are firm and have long lasting deep colours, their surface is not completely smooth. In our offer you will find various widths 6 mm, 12 mm, 25 mm, 38 mm with a length of 22 m.