Supplier of KnitPro hooks and needles
Ergonomic knitting needles
We are the exclusive distributor for KnitPro needles. In our offer you will find unique ergonomically shaped square knitting needles brought by Nova Cubics. They are made of brass metal with a polished finish. They are square in a cross section and their size is measured diagonally. They are an ideal choice for people with arthritis, but also for beginners as a prevention against rapid hand fatigue. Available sizes are from 2 mm to 8 mm. Wholesale of knitting needles offers the possibility of ordering from one piece. We offer knitting needles for haberdashery at unbeatable wholesale prices and our warehouse also offers more than 3,000 models of needles and hooks.
NOEZON wholesalers offer a full range of NOVA CUBICS needle models:
double pointed knitting and stitching needles with a length of 15 cm and 20 cm

fixed circular needles with the cord and length of 40 cm, 60 cm, 80 cm, 100 cm and 120 cm

interchangeable and short interchangeable tips

single pointed needles with a length of 25 cm, 30 cm, 35 cm

sets of knitting needles
The unique ergonomic shape and low weight guarantee a long hours of comfortable knitting.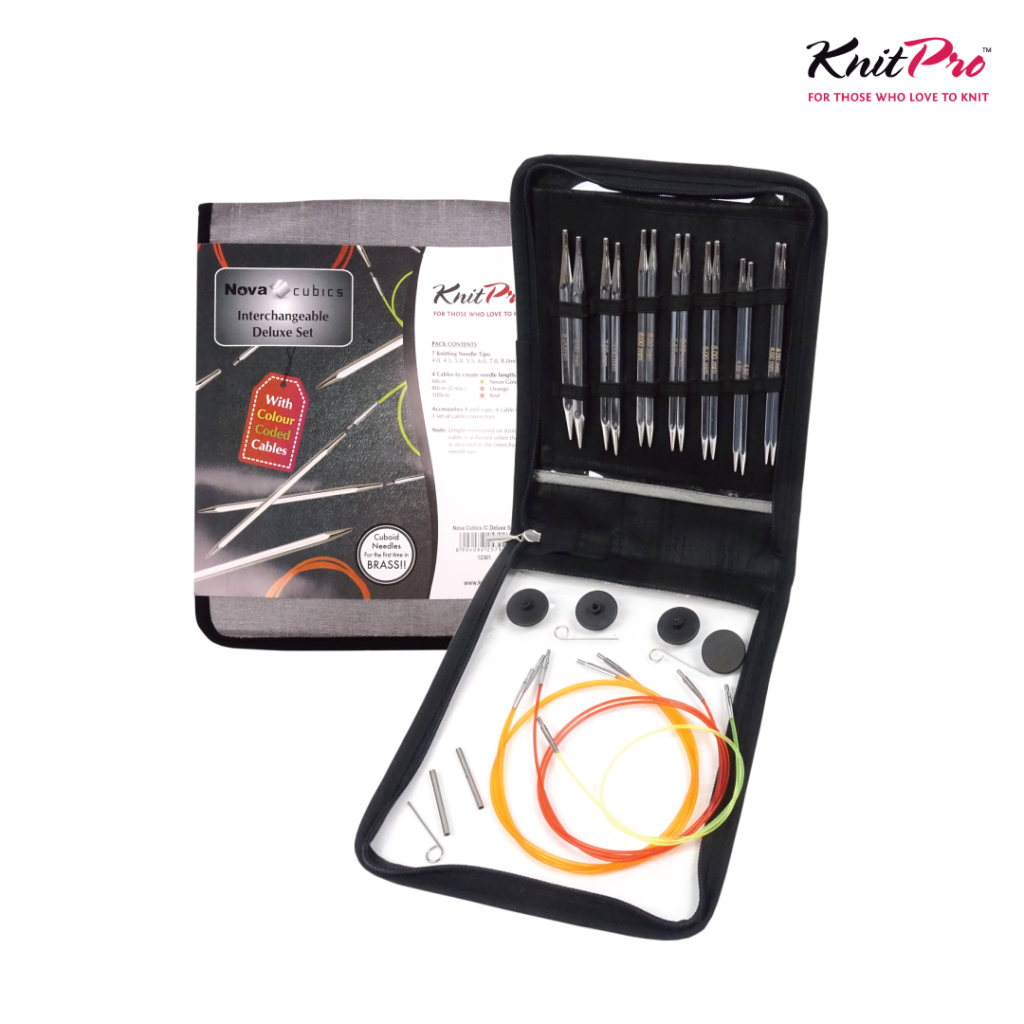 Lightweight brass needles have a perfect surface finish and square shape. They are corrosion resistant. You will appreciate the sharp, gradually tapered tips during every knitting. Double pointed needles are ideal for socks knitting and all projects knitted in a circle. The needles are very light and therefore suitable for long hours of knitting. Each packet contains 5 needles and they are available in lengths of 15 and 20 cm and sizes from 2 mm to 8 mm.
The wholesale of circular needles offers unique needles in the cuboid shape. They are made of galvanized brass, which makes them resistant to corrosion. Their surface is perfectly smooth and elaborate and therefore the yarn does not get caught. The needles are firmly connected to the cable and this transition is completely smooth. Resilient and flexible KnitPro cables lay flat, with no kinks or twists. The needles have a square shape in cross section, their size is nevertheless measured diagonally in classic gauges for circular knitting needles. The circular needles have sharp, perfectly tapered tips, which makes it easier to pick up any stitches during knitting. The needles are warm and gentle in the hand. Their lightness will be appreciated by the user during long hours of knitting. Unique ergonomically shaped needles are ideal for people with arthritis, but they are also very popular with beginners. Available in sizes 2.5 mm to 8 mm, with lengths of 40 cm, 60 cm, 80 cm, 100 cm and 120 cm.
Interchangeable Circular Needles
In the wholesale offer are interchangeable needles with screwable cables, which offers the possibility to change the length as needed. They are unique in their cuboid shape. They are ideal suggestions for beginners as for their easier grip but also low weight. The package contains interchangeable metal tips without a cable. The cable must be purchased separately. The needles are suitable for knitting any project, the yarn does not get caught on their surface and thanks to the sharp tips the stitch picking is much easier. Available in sizes 4 mm to 8 mm. The length of the needles is 11.5 cm.
Short Interchangeable Needles
KnitPro Nova Cubics interchangeable needles are made of galvanized brass with a polished surface finish. They have a special length of 10 cm, sizes from 4 mm to 8 mm are available. They are smooth, pleasant and warm to touch despite the metal surface. The short needles are specially designed to reach a final length of 40 cm. The transition between the cable and the needles is completely smooth, which ensures that there is no wool catching. The pack contains one pair of interchangeable needles without a cable, which are suitable for any knitting. KnitPro cables are flexible and have swivel connections. 
The unique ergonomic shape offers comfortable knitting and excellent grip on the needle. They are ideal for beginners, to whom they provide a firm grip. Despite of extremely strong brass the needles are very light, have a polished galvanized surface and therefore resistant to corrosion. The large wooden knobs complement their perfect shape and design. Available in lengths of 25 cm, 30 cm and 35 cm and in sizes 2 mm to 8 mm.
In our needle warehouse you will also find needle sets that contain the most commonly used sizes of ergonomically shaped needles and knitting aids. All stored in a practical case. There are several models to choose from classic single pointed needles, interchangeable needles with a cable or double pointed needles. We are a distributor of needle sets for beginners and customers who prefer needles with a firm grip.