Supplier of KnitPro hooks and needles for haberdashery
Wooden Needles with metal tips
Wholesale of needles for haberdashery offers knitting needles Royale KnitPro. Wooden knitting needles bring a range of eleven bright colors. The individual sizes differ in color. Great for quick identification. The needles have a wooden body and sharp brass tips. When working, they fit comfortably, they are warm to the touch and gentle in the hand. The needles are available in sizes 2 mm to 12 mm. Our warehouse offers more than 3,000 models of needles and crochet hooks for haberdashery.
Each size of knitting needle has been assigned to a color and is transferred to a variety of knitting needle models:
Double pointed needles with a length of 15 cm and 20 cm

Fixed circular needles with 360 degree rotating cable with a final length of 40 cm, 60 cm, 80 cm, 100 cm, 120 cm and 150 cm

Short and classic interchangeable needles

Single pointed needles

Practical and luxurious sets of needles and knitting tools
A unique combination of power and sophistication. The Royale needles are lightweight, strong, flexible and therefore are an ideal for any project. They have a perfectly refined smooth surface and sharp metal tips, which works effortlessly with every yarn. Our wholesale offers a wide range of products from the KnitPro brand for haberdashery.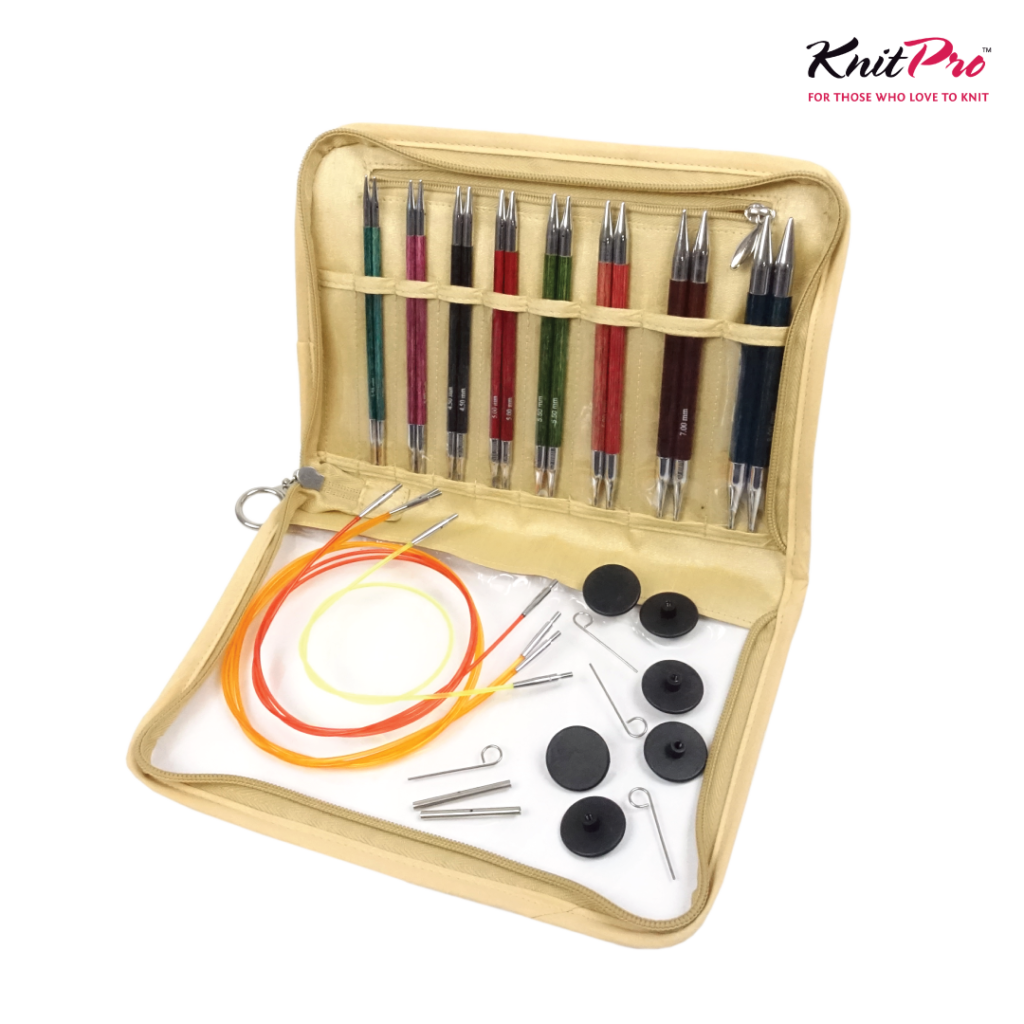 Each pack contains 5 double pointed needles. The body of the needle is made of birch wood with metal tips at both ends. The individual sizes differ in color, the size is also laser marked on the surface. Therefore, even when mixing, it is easier to identify them. Royale needles are varnished and the surface is shiny and smooth. Double pointed needles are suitable not only for knitting socks, but for any knitting in a circle. They are light, strong and flexible, suitable for long hours of knitting with any yarn. We offer lengths of 15 cm and 20 cm, sizes from 2 mm to 8 mm.
Fixed Circular Needles with a cable
In our warehouse we offer Royle fixed circular needles with a total length of 40 cm, 60 cm, 80 cm, 100 cm, 120 cm, 150 cm and in sizes from 3 mm to 12 mm. Circular needles are made of wood in combination with a sharp metal tip. The surface of the needles is painted and their body has a perfectly narrow shape, so they fit comfortably in the hand. The metal tips are sharp, precise and are therefore also suitable for knitting tighter patterns. The fixed connection of the cable and the needle creates a smooth and smooth transition without catching the yarn. These unique needles have a special cable that rotates 360 degrees in the joint, so it does not break. KnitPro cables are flexible and resistant.
Interchangeable Circular Needles without a cable
Interchangeable Royale needles are available in two sizes: 
The short interchangeable needles

are 10 cm long and they are suitable for making a final length of 40 cm.

The classic interchangeable needles

are 11.5 cm long and you can create a final length from 60 cm, up to 150 cm. Needle sizes are available from 3 to 12 mm. Colored wood needles have sharp metal tips and the package contains one pair of needles without a cable.

The cable must be purchased separately!

KnitPro screw cables are flexible and strong.
Royale wooden needles have a varnished surface, in combination with sharp metal tips they are an ideal choice for knitting dense patterns. Each size differs in color and is marked on each needle. They are warm to the touch and soft in the hand. They are available in sizes from 3 mm to 12 mm and lengths of 25 cm, 30 cm, 35 cm, 40 cm.
KnitPro Royale needle sets
KnitPro Royale sets offer luxury needle sets for demanding customers as well as practical sets for beginners. Needles and knitting aids are stored in a protective case. There are several types of sets to choose from, whether with single pointed, interchangeable or double pointed needles. They are suitable as a gift and will surely please all lovers of knitting.