Distributor of KnitPro needles and hooks for haberdashery
Acrylic needles and hooks for knitting
We are the largest supplier of KnitPro needles in Slovakia, which brings novelty directly to your haberdashery. Trendz needles are made of high quality acrylic material, in radiant colours. During their production, no bubbles are formed inside the needle, so the body of the needle is strong and durable. Each size of the needle and hook has a distinctive colour in a wide range of Trendz models. These needles are an ideal choice for beginners, offering great value for money and quality. They are available in sizes from 3.5 mm to 12 mm.
Our warehouse with needles and hooks is constantly expanding and already has more than 3,000 models of needles, hooks and knitting tools, which can be ordered from one piece. Here you can find haberdashery products at unbeatable wholesale prices.
The KnitPro Trendz brand offers several models of knitting needles and hooks:
Double pointed needles 15 cm, 20 cm

Circular needles with cable and fixed length 60 cm, 80 cm, 100 cm, 120 cm

Interchangeable needles with selectable cable length

Single pointed needles 25 cm, 30 cm, 35 cm

Acrylic hook

Double ended crochet hook

Crochet hook with selectable cable length

Tunisian hook

Sets of knitting needles
Acrylic needles for sliding yarns are slightly rough on the surface. Their bright colours will help in quick identification. We are a wholesaler with needles for haberdashery, which offers trends but also standards in knitting.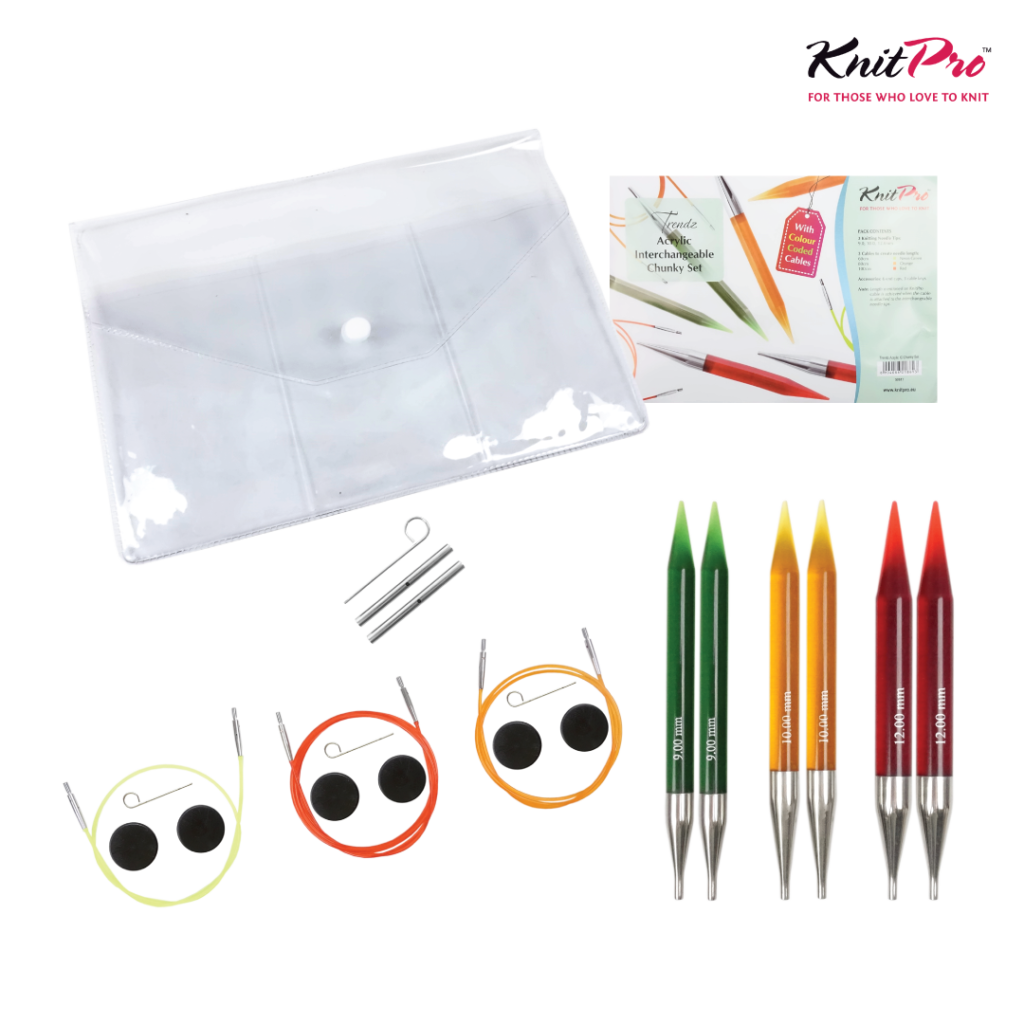 Trendz sock knitting needles are made of acrylic material. During a production, there are no bubbles with an empty space formed in the body of the needles, which guarantees their strength and durability. The package offers 5 pieces of needles of the same size. Trendz needle models are suitable for working with slippery yarns, they are pleasant to the touch, their surface is matte but smooth. Due to their ease, they are especially popular with beginners. They are suitable for knitting in a circle and are available in sizes 3.5 mm to 12 mm with a length of 15 cm and 20 cm.
The acrylic circular needles are firmly connected to the cable. Their 'adhesion' allows easy handling of smooth yarns. Stitches can be quickly picked up and even complex patterns can be handled. The sizes of the needles are colour-coded with a final length of 60 cm, 80 cm, 100 cm, 120 cm and a diameter of 3.5 mm to 12 mm. The needles with the cable can twist after work, as the KnitPro cables are flexible. They are a great choice for beginners. The needles are light and pleasant to the touch. You will find these models only in our warehouse with circular needles.
Interchangeable Circular Needles
KnitPro Trendz needles are produced in multi coloured acrylic material with a final length of 12 cm. The needles are available in sizes from 3 mm to 8 mm. The sizes of the needles vary in colour and are also laser marked on their surface. The shape of the needles is narrow and their sharp tips ensure easy pick up of the yarn. The great advantage of these needles is their flexibility, as the required length with a cable can be created. The transition between the cable and the needle is smooth, which ensures that the yarn will not be caught. The KnitPro cables have screw connections, are flexible and do not break when twisted. It is sometimes necessary to tighten the joints with a wrench. KnitPro Trendz circular needles are suitable for all types of yarns, especially for slippery ones. The yarn does not slip off the needles and due to their narrow shape they are suitable for knitting tighter patterns.
They bring beautiful, vivid colours to the world of knitting. Thanks to the exceptional material, they have become very popular, especially with beginners. Trendz needles are made of solid acrylic material, with a matte surface and therefore they are suitable for knitting with slippery yarns. They are light and well fit in the hands. Available sizes are 4 mm to 12 mm and lengths of 25 cm, 30 cm, 35 cm.
Trendz brings sets of interchangeable needles for beginners and advanced customers. In the set you will find the most used sizes of interchangeable needles and all the tools necessary for their exchange. The needles and cables are packed together in a protective case.
Trendz acrylic hooks offer several types of crochet hooks. The most common are standard hooks with fine notches at the end and are available in sizes from 5 mm to 12 mm. Double ended hooks offer sizes from 5 mm to 12 mm. A specific model is a Tunisian single ended hook with a replaceable screwing cable and selectable length. The last group are Tunisian hooks with a fixed length of 30 cm and sizes of 5 mm to 12 mm. Acrylic hooks are an ideal for crocheting with slippery yarns.