Supplier of KnitPro hooks and needles
Bamboo needles and crochet hooks
In our haberdashery wholesale we offer needles and hooks made of Japanese bamboo. When working with these products, you will feel their strength and flexibility. An unique experience developed directly by experts. Bamboo needles have a sophisticated smooth surface and perfect shapes that fit in the hand. They are produced in sizes 2 mm – 10 mm. In the wholesale warehouse with KnitPro needles, you can buy from one piece.
In the wholesale offer, bamboo needles are available in variants:
double pointed knitting needles with a length of 15 cm and 20 cm

fixed circular needles with a cable and length of 40 cm, 60 cm, 80 cm, 100 cm

interchangeable circular needles

single pointed knitting needles with a length of 25 cm, 30 cm and 33 cm

bamboo hooks

Tunisian hooks with cable

sets of needles and crochet hooks
We offer haberdashery needles at unbeatable wholesale prices.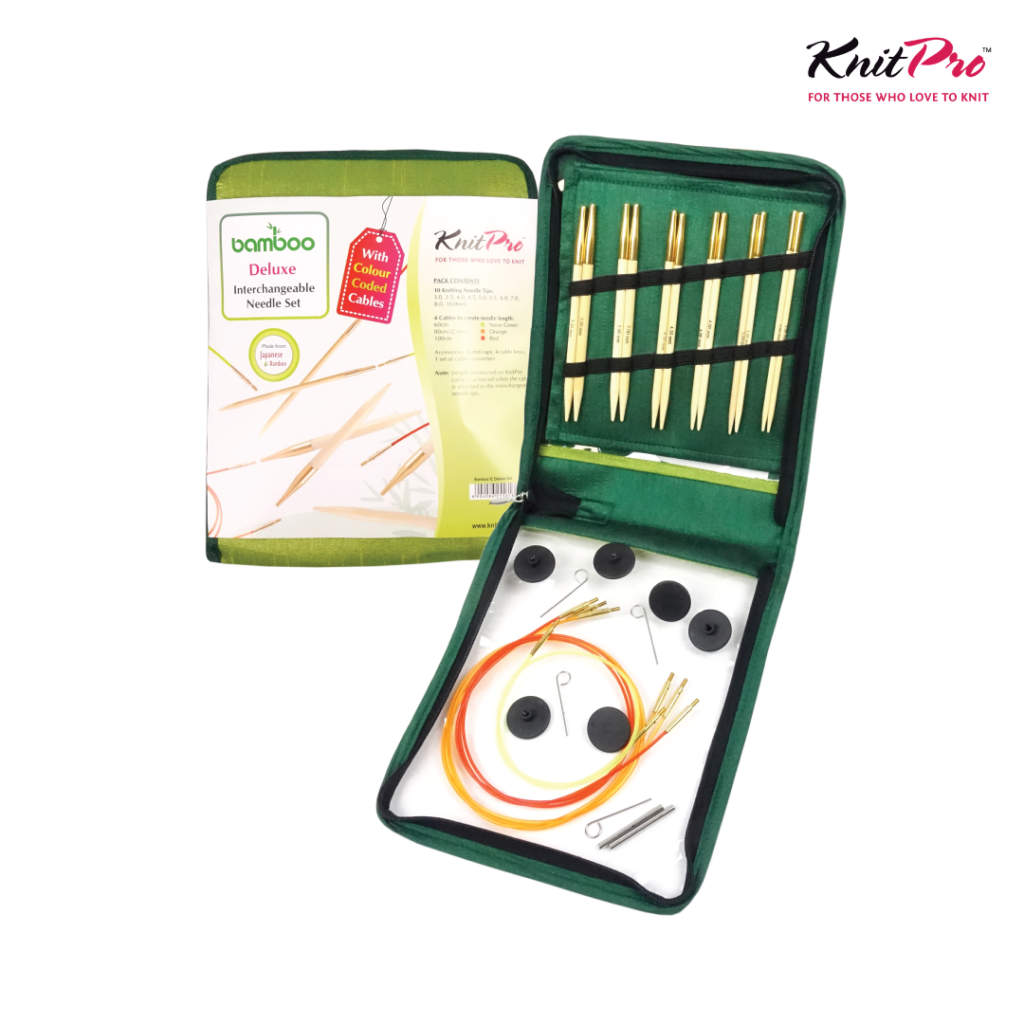 Double Pointed needles are packed in a set of 5 and made from Japanese bamboo of the highest quality . The wholesale offer includes needles with a length of 15 cm or 20 cm, available in sizes 2 mm-5 mm. They are extremely light, but have the strength of natural wood. Bamboo wooden needles are suitable for knitting, but also knitting in a circle.
Fixed Circular Needles with the cable
The fixed circular needles with the cable have a fixed length and they are characterized by their lightness and strength. Circular needles have a perfectly machined smooth surface. They have sharp tips, which will make picking up yarn very easy. Strong and firm needles that do not burden your hands with light weight. The surface is smooth and the yarn does not catch. They are available in sizes from 2 mm to 10 mm with a fixed length of 40 cm, 60 cm, 80 cm and 100 cm. Fixed circular needles are suitable for all types of yarn.
Interchangeable Circular Bamboo Needles
The advantage of interchangeable circular needles is their strength, lightness and, last but not least, the ability to choose their final length. Interchangeable needles are for screwing and the cable must be purchased separately. Each package contains one pair of interchangeable tips with gold-plated screw cable thread. While working with the Bamboo needles, they have a warm feeling  in the hand. They are light and ideal for effortless knitting.
Bamboo needles excel in their lightness and strength of the material. The smooth surface guarantees easy sliding of the yarn. The green robust needle tips are an ideal choice if you prefer knitting needles made of warm, natural materials. Available in sizes from 2 mm to 10 mm with a length of 25 cm, 30 cm and 33 cm.
Sets of bamboo needles and crochet hooks
The gift sets of knitting and crochet needles contain the most commonly used sizes. Bamboo needles and hooks are perfectly matched with the green storage case and they are an ideal choice for wooden needle knitting lovers. Sets of single pointed needles, round needles and interchangeable needles are available as well as set of classic bamboo or Tunisian crochet hooks with a cable.
The hooks are made of the finest quality Japanese bamboo. Larger sizes are suitable for crocheting with thicker yarns and twines. Their total length is 15.5 cm with sizes from 3 mm to 10 mm. The single crochet with stops at the end prevents yarn slippage and the smooth surface allows effortless crafting for hours.
Tunisian Single Ended Crochet with cable
Tunisian single ended crochet with cable is made from the finest quality Japanese bamboo with a smooth surface and hand crafted tips. The firm connection between the cable and the hook is gold-plated ferrules and connectors. The smooth joins allow easy and snag-free sliding of the yarn. Available sizes are 3 mm to 8 mm. The cable must be purchased separately.