Supplier of metal needles for haberdashery
Lightweight brass needles
Wholesale KnitPro needles bring a range of Nova Metal metal needles, which are engineered of galvanized plated brass tubes. They are light, resilient, comfortable to fit and, last but not least, corrosion-resistant with provision of maximum durability. Thanks to the sharp tips, they are ideal for achieving accurate patterns. Available in sizes 2 mm to 15 mm. The needle warehouse offers more than 3,000 models of needles and hooks for haberdashery.
Nova Metal offer a choice of all needle models:
Double pointed needles with a length of 15 cm and 20 cm

Fixed circular needles with lengths of 25 cm, 40 cm, 50 cm, 60 cm, 80 cm, 100 cm, 120 cm and 150 cm

Interchangeable and short interchangeable needles

Single pointed needles with a length of 25 cm, 30 cm, 35 cm, 40 cm
Nova Metal is a very popular model of needles due to its affordability and great features. At the haberdashery wholesale, you can buy from one piece at advantageous wholesale prices for needles and crochet hooks.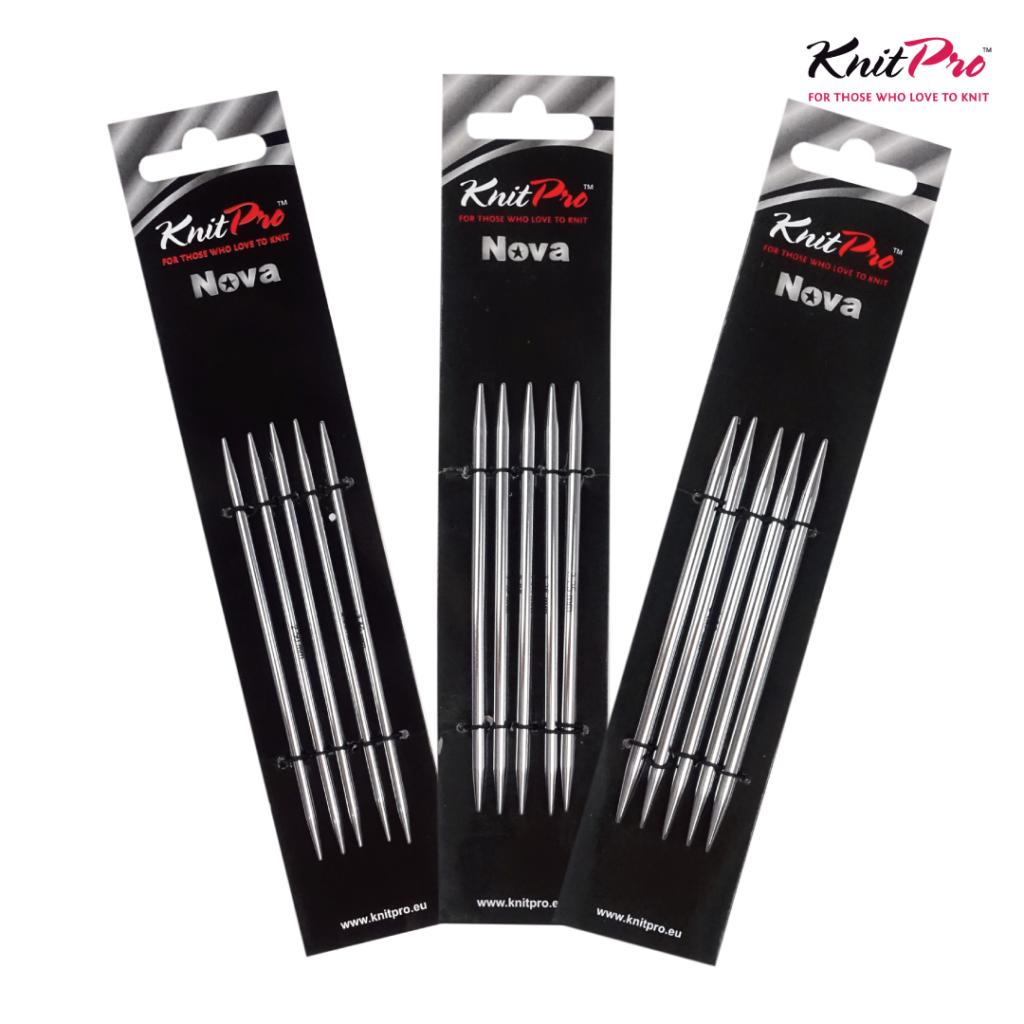 The light metal needles are made of brass tubes with a surface treatment against corrosion. The surface is polished and smooth. The body of the needle gradually tapers to a sharp tip, therefore collecting yarn is accurate and easy. Durability of brass metal guarantees minimal wear and maximum life. They are available in sizes 2 mm to 4 mm with a total length of 10 cm, 15 cm and 20 cm. The package contains 5 pieces of double pointed knitting needles, which are ideal for any knitting in a circle.
In our wholesale we offer KnitPro Nova Metal needles, which are made of galvanic brass tubes with a polished smooth surface. They are available in lengths of 25 cm, 40 cm, 50 cm, 60 cm, 80 cm, 100 cm, 120 cm, 150 cm. Sizes from 2 to 12 mm are available. The metal knitting needles are gradually tapered into the sharp tips, thanks to which the yarn is picked up more easily. They are suitable for knitting toys, doll's clothes and small accessories. This range of fixed round needles covers smaller and shorter needle sizes that are not in the range of replaceable products. These needles have the same advantages as all Nova needles. Fixed circular needles have flexible KnitPro cables, which do not break, but can be twisted after work. Variants of KnitPro Nova needles are very popular due to the advantageous combination of price and quality.
Interchangeable Circular Needles
We are a distributor for KnitPro interchangeable circular needles. Metal needles are corrosion resistant with a minimal wear. There are two variants of interchangeable needles:
Short interchangeable needles with a length of 10 cm to create a total length of 40 cm and classic interchangeable needle tips with a length of 11.5 cm to create the necessary length.

The package contains one pair of interchangeable tips, the cable must be purchased separately. The swivel cords in the purple design are flexible and compatible with interchangeable KnitPro needles. Interchangeable metal needles are available in sizes from 3 to 15 mm.
The needles are ideal for knitting with any wool or yarn. The body of the metal needles gradually passes into sharp tips and their surface is varnished and smooth. Large wooden knobs help to keep the yarn in place. The metal needles are warm to touch, they are light and perfectly processed. They are an ideal choice for beginners and are available in sizes from 2 mm to 12 mm. The lengths of the needles have variants of 25 cm, 30 cm, 35 cm and 40 cm.
Interchangeable Needle Sets Nova Metal
The Nova Metal needle brand offers a choice of practical sets of interchangeable needles and double pointed knitting needles. The kits contain the most commonly used sizes of needles with the cord and replacement tools. It also offers a smaller set for beginners, larger sizes of needles and finally luxury sets for knitting lovers. Advantageous needle sets for haberdashery are available at unbeatable low prices.